Champagne | 10 Cuvées for Summer 2022
Hot days call for cold drinks. No other would be more suitable than Champagne. We compiled a list with some of our favourite cuvées for you to taste this summer. Head over to Instagram and let us know which one you would pick!
Armand de Brignac Brut Gold
Let's start with Armand de Brignac. Their Brut Gold remains the most iconic cuvée in the range and rightly so. Its texture is deliciously creamy and the palate has great depth and impact with a long and silky finish. For us, this is a superb example of a Prestige Champagne. On the nose, peach, apricot and red berry aromas are followed by crystalized citrus, orange blossom and hints of brioche. The palate is rich with cherries, exotic fruits and a touch of lemon, vanilla and honey. The mouth feel is soft and creamy, with a hint of toastiness. This comes from the unique dosage which is aged for one year in French oak barrels.
Did you know that each bottle of Armand de Brignac is coated in metal and finished with the labels that get applied by hand? Only 20 bottles can be completed per person per hour in the winery.
Veuve Clicquot La Grande Dame 2006
La Grande Dame is a tribute to Madame Clicquot and to the creative and elegant souls who have followed in her footsteps. For La Grande Dame 2006, Veuve Clicquot created a blend of its eight classic Grands Crus: Aÿ, Bouzy, Ambonnay, Verzy and Verzenay for the Pinot Noir (53%); Avize, Oger and Le Mesnil-sur-Oger for the Chardonnay (47%). We love this cuvée's light gold color. It offers a complex notes of stone fruit, dried fruits, pastry, gingerbread, and even mocha. Expect freshness and a nice length. We love this opulent vintage!
Bollinger La Grande Année 2014
For their 2014 vintage, Bollinger blended 61% Pinot Noir, 39% Chardonnay, and a total of 19 crus. Fermented entirely in aged oak barrels, this vintage gave rise to a wine that is simultaneously structured, rich and complex. Get ready for a fruity nose with a slight scent of sea-air. On the palate, the initial sensation is a fine and intense effervescence, followed by a wonderful vinosity. Its very fine texture is accompanied by a delicate minerality and the complex flavours of orchard fruit and citrus. AT 8 grams per liter, it has a moderate dosage, making it a perfect Champagne to enjoy with gourmet food.
Taittinger Comtes de Champagne 2011
The first Blanc de Blancs on the list! According to Taittinger, the year 2011 was marked by early ripening and a spring drought. This forced the root network to delve deep in the earth in search of the water it needed for proper growth and resulted in a voluptuous Comtes de Champagne. The nose exhales delicious notes of gingerbread, liquorice and meringue. On the palate, it delivers aromas of delicate white fruit: peach, cherimoya and mandarin peel subtly blended with light touches of almond pastry. After 10 years of slow maturation in the cellars, you can enjoy a wine of great mineral power, dense, and rich with Chardonnays showing off their iodine character.
Rare Millésime 2008
2008 was an exceptional year in the Champagne region. The extraordinary conditions are reflected in the initial nose of the Rare Millésime 2008. The nose reveals a vast range of orange blossom, hyacinth, and white flowers. This is followed up by exotic notes of vanilla blossoms, a touch of fresh coconut, aromas of just-ripe Williams pear, and fresh almond. On the palate the crispy, precise attack is followed by exuberant aromas of fresh pineapple, freshly cut and crisp, passion fruit, kiwi and coconut, nuanced with tangy citrus notes. These exceptional exotic notes make the Rare Millésime 2008 a perfect summer Champagne.
Krug Grande Cuvée 169ème Édition
Krug Grande Cuvée is born from the dream of Joseph Krug to craft the very best Champagne he could offer. Every single year, regardless of annual variations in climate. Since 1843, Krug has honoured this vision with each new edition of Krug Grande Cuvée. It is a blend of over 120 individual wines from more than 10 different years.
Krug Grande Cuvée 169ème Édition was composed around the harvest of 2013, a year that beautifully expressed the unique characters of some of the House's iconic plots. A light golden colour and fine, vivacious bubbles, holding a promise of pleasure. Aromas of flowers in bloom, ripe, dried and citrus fruits, as well as marzipan and gingerbread. Grilled notes and flavours of almond paste, quince, lemon, limoncello and dried fruit. This exceptional Champagne goes perfectly with Asian cuisine and even cigars!
Dom Pérignon 2012
The year 2012 was shaped by unpredictable seasons. Their force and generosity shaped an outstanding olfactory landscape imbued with remarkable variety. Combining intensity, contained tautness and extreme contradictions, the Dom Pérignon Vintage 2012 reveals a unique structure, channelled by an acidity and delicate bitterness that burst forth magnificently.
The nose is full and varied, mingling flowers with fruit, and the vegetal with the mineral. The bouquet is tactile, subtly enticing us along a trail of powdery white flowers and nectareous apricot, followed by the freshness of rhubarb and mint. On the palate, a welcoming opening is followed up by an explosion of effervescence and tonicity. Wonderfully acidic and bitter notes marry with scents of ginger and tobacco.
Laurent-Perrier Grand Siècle Nº 25
For their Grand Siècle Nº25, Laurent-Perrier has assembled vintage years 2008 (65%), 2007 (25%), and 2006 (10%). The result is a champagne that is brilliant in character with a white gold colour. It offers an intense nose of fresh citrus fruits, followed by subtle aromas of grilled almonds and brioche. The wine has a fresh and toasted attack. Its finish is persistent with notes of citrus fruit. We also love its exceptional aromatic depth.
de Venoge Prince Blanc de Blancs
The House de Venoge is a producer with a rich history. In 1864, Joseph de Venoge created a special cuvée in honor of the Princes of Orange. Its elegant and famous bottle recalls the crystal flasks in which European aristocracy used to decant their Champagnes in the early twentieth century.
Our favourite cuvée from de Venoge is the Princes Blanc de Blancs. It is made only from Premiers Crus and Grands Crus (Mesnil sur Oger, Trépail) wich are rigorously blended by the talented cellar master. This Champagne is made from 100% Chardonnay and shows wonderful mineral notes and has a great ageing ability. Its freshness and elegance are underlined by subtle aromas of white flowers and citrus. Serve it as an aperitif or pair it with a light starter. Definitely a must try!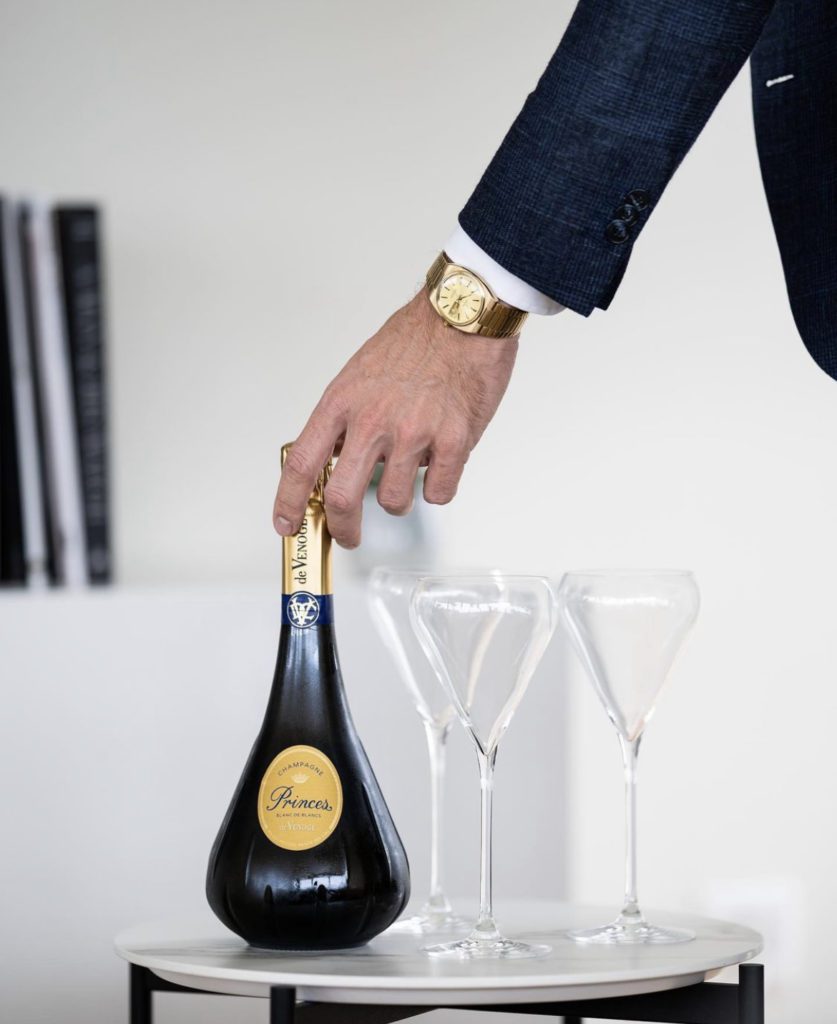 Veuve Clicquot La Grande Dame Rosé 2008
Let's finish the list with an exceptional rosé. With La Grande Dame Rosé 2008, Veuve Clicquot has created a cuvée that also features 14% Pinot Noir still red wine from the Clos Colin in Bouzy. It's one of the most historical plots in the Veuve Clicquot vineyard.
The rosé Champagne is full-bodied and smooth at first, then becomes refined with fresh aromas. The Pinot Noir's generosity resonates beautifully after a slow and long aging in the Veuve Clicquot cellars. The wine shows powerful notes of red fruits (raspberry and strawberry), combined with citrus notes (blood orange, grapefruit), and finally holds a perfect balance between subtle and spicy. The attack is delicate and smooth. Fruit outshines the palate and presents intensity in red and black fruits (cherry, strawberry, blackberry and blackcurrant). The strength and youth are carved by long aging notes, dried flowers and smoky notes, presenting an incredible complexity.
We hope you liked this list of outstanding Champagnes to enjoy this summer. For more content, click here.