Il Sereno | Spring at Lago di Como
Spring has arrived. That means we're off to picturesque places with Mediterranean climate. Traveling from Switzerland, Lago di Como is an ideal place for an unforgettable weekend trip. Especially when staying at the marvelous Il Sereno!

Experiencing Il Sereno
With exceptional service, world-renowned design and unmatched location, Il Sereno offers you the chance to step out of the ordinary, and into a world of effortless relaxation and simple beauty.
Unwinding at the Pool
The hotel is surrounded by a lush, sunlit garden that offers fantastic views of Lake Como and invites you to take short walks along hidden passages. There are also two large vertical gardens and a plant sculpture by the famous garden architect Patrick Blanc.
At the center of the gardens is a nearly 20-meter infinity pool flanked by a large sun deck. Here, guests can relax and enjoy snacks and drinks. A small beach area near the pool offers the possibility of direct access to the lake. We take the opportunity to mix a classic Italian cocktail before sunbathing, the Negroni. Cheers!
Dinner
Dinner is served on a beautiful outdoor terrace overlooking Lake Como. The restaurant also includes a section that is located inside a former boathouse. A magnificent setting for a magical evening. It is in this unbeatable location where Chef Raffaele Lenzi spoils his guests with a modern and cosmopolitan cuisine. The guests can order à la carte or choose one of three tasting menus:
Omaggio a la tradizione | five dishes of Italian cuisine reinterpreted in a modern way
Contrasti | seven dishes based on the contrast of flavors and gastronomic cultures
Vegetables, tubers, and roots | seven dishes that put vegetables at center stage
Breakfast
After a good night sleep, guests can enjoy a nice breakfast. You can choose if you want to sit outside or inside the former boathouse. Either way, guests can order delicious dishes including waffles, pancakes, and egg benedict.

A Day on Lago di Como
For centuries, Lago di Como has drawn visitors with its natural beauty and dramatic views of the southern Italian Alps. The lush gardens and idyllic small towns can best be discovered with a boat. Ideally a classic wooden boat!
Exploring the Lake
Lago di Como has a very characteristic shape, reminiscent of an inverted Y. It results from the melting of glaciers and erosion caused by rivers. This led to the formation of the two southern branches. In the midst of which, the picturesque village of Bellagio is located. But this famous town is not the only village worth visiting. We can also recommend stopping by Varenna, Tremezzina, or Menaggio. While it takes time getting around by car, you are very fast on the lake itself.
Villa Pliniana
One of the popular historic sights on the shores of Lago di Como is the Villa Pliniana. The magnificent estate is surrounded by lush vegetation and nestled into the rock. After rainfall, you see a stunning waterfall of seventy meters on the left hand side when facing the the building. For us, the perfect location to rest for a bit and enjoy a glass of Champagne.

Step inside the Signature Penthouse
The latest highlight at Il Sereno is the Signature Penthouse. Its exquisite interiors and furnishings have been designed by Patricia Urquiola and are inspired by post-war Italian glamour, 'La Dolce Vita', modernist Italian designers and Como silks . The suite is rich in high-quality materials including Canaletto walnut wooden ceilings, Verde Alpi stone walls and Ceppo di Gre and venetian terrazzo stone floors. The choice of furniture is a tribute to the emblematic pieces of Italian design.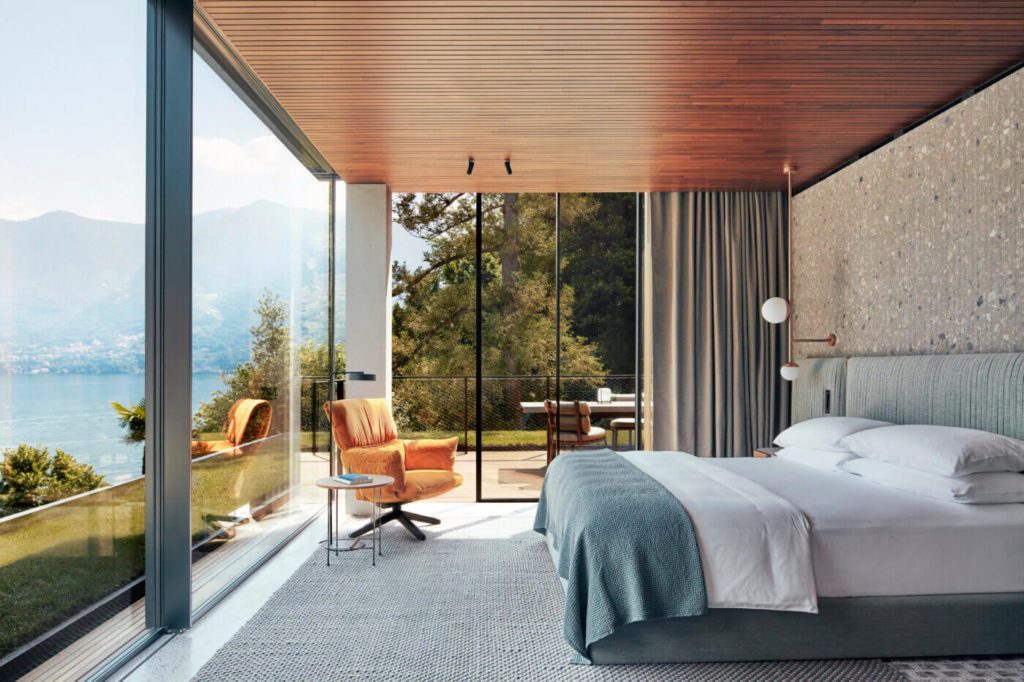 The Signature Penthouse has a large living room, dining space, two bathrooms, and a master bedroom. All rooms offer spectacular lake views. We particularly love its large terrace. Here, a talented barman shows us how to mix one of his signature cocktails, the Astrea!
Want to read more? Then click here for another article about the Il Sereno or here if you want to get a matching watch for your trip to Lago di Como.