Fratelli Tallia di Delfino | Viral-Off Technology Fabric
The Covid-19 pandemic has led to countless innovations. One of which was recently embraced by the Italian high-end textile manufacturer Fratelli Tallia di Delfino. While the traditional wool mill's style is constantly evolving, they have recently introduced DEFENDER. This new collection enriches their high-end fabrics with Viral-Off Technology.

Viral-Off Technology
The newly launched DEFENDER collection by Fratelli Tallia di Delfino is ready to change the industry with its Viral-Off Technology. It is used worldwide exclusively by the Italian wool mill in partnership with the prestigious Scandinavian company Polygiene.
Anti-viral, water repellent, natural stretch and breathable: the selection of DEFENDER fabrics guarantees the elimination of 99% of viruses in a very short time. The different fabrics were given a lasting treatment at Polygiene in Sweden, which is always active and does not need to be reapplied during its lifetime. It is the collection's mission to guarantee safety and protection at any time, while maintaining the elegance of the high-quality fabric which is 100% made in Biella, Italy.

Fratelli Tallia di Delfino
A century ago, in an area steeped in most ancient traditions of wool production, where water flows with a special purity, the Fratelli Tallia di Delfino wool mill was established. Today, it is a respected fabric brand dedicated to men's high fashion and well-respected throughout the world for its extensive experience in fine drapery. Throughout its long history, the company has held on to its small dimensions. They continue to source the finest raw materials and stay true to the iconic 'Made in Biella' traditions.
Which the launch of the DEFENDER collection, the artisans at Fratelli Tallia prove, that they have a clear vision for the future, which they want to build together with their partners and customers.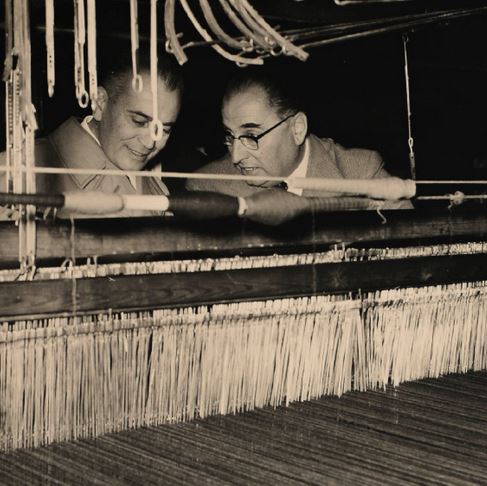 Amarcord
In Switzerland, Amarcord is the only tailor offering the magnificent fabrics from the groundbreaking DEFENDER collection. Based in Zug, they offer contemporary sartorial elegance for their sophisticated clients. It is here where we get tailored our suit with fabric featuring Viral-Off Technology. We opt for a beautiful navy blue fabric and opt for a three piece suit with signature details by Amarcord.
Next to their gorgeous boutique in Zug, they also welcome clients in a secret location nearby. We park the Jaguar F-Type directly in the 'man cave' dubbed garage, where we enjoy a strong espresso and talk about suits, cars and watches. What an amazing place to do the fitting of our new Amarcord suit with DEFENDER fabric by Fratelli Tallia di Delfino!
We are happy to offer this particular suit on our webshop as part of our ready to wear collection. Order a 2 or 3 piece in your size and get it shipped to your home!