Quarantine Reads | Howard Hughes' Pioneer Spirit
"Do the impossible, because almost everyone has told me my ideas are merely fantasies." This quote reflects Howard Hughes' unparalleled pioneer spirit. But who was he and how did his and Swiss watchmaker Longines' paths cross? We are going to tell you the story in another sequel of our 'Quarantine Reads' series!

Hollywood
The Texan Howard Hughes was an adventurer at heart. Born into a wealthy family in 1905, he lived a privileged childhood. After the death of his parents, he put his inheritance to good use built up a billion-dollar empire. At age 18 he dropped out of university, let others manage the oil-tool business and set out for Hollywood in 1925. As a Hollywood producer and director, he discovered big stars like Jean Harlow and brought Oscar-winning films to the cinema. His first success was Hell's Angels which debuted in 1930. For this action-adventure about World War I pilots, Hughes acquired a huge fleet of vintage planes. During production, three pilots died and Hughes himself crashed a plane. With production costs of USD 4 million, it was one of the most expensive films of its time. Luckily for him, it was also a hit which put Hughes on the map in Hollywood.

Aviation
As an indifferent student, Hughes had a liking for mathematics, flying, and mechanics. He took his first flying lesson at 14. As a flight enthusiast he grew beyond his limits and not only obtained his pilot's license, but even developed his own aircraft, which thanks to its aerodynamic shape was faster than all the others: in 1935 Hughes already achieved 566 km/h, breaking the world speed record. In 1938 he also succeeded in making the fastest round-the-world flight in 3 days, 19 hours and 14 minutes in a Lockheed Super Electra. To find his way, Hughes and his navigator used several Longines chronometers, including a high-precision instrument for astro-navigation. A lifelong aircraft enthusiast and pilot, Hughes survived four airplane accidents, one while setting the airspeed record in the Hughes H-1 Racer.

Hughes H-4 Hercules
Besides fast planes, he also built large aircraft. During World War II, the US War Production Board contracted Hughes to produce the gigantic Hughes H-4 Hercules flying-boat to transport 700 troops or 60 tons of equipment across the Atlantic as an alternative to ships that were vulnerable to German U-boats. The Hercules was the world's largest flying boat, the largest aircraft made from wood, and, at 97.5 m, had the longest wingspan of any aircraft. The Hercules flew only once for 1.6 km, and 21 m above the water, with Hughes at the controls, on November 2, 1947.
TWA
In 1939, Hughes began to quietly purchase a majority share of TWA stock; he took a controlling interest in the airline by 1944. Following his involvement, his company Hughes Tool Co. purchased the first 6 Stratoliners which Boeing ever manufactured. While five of them were operated by TWA, he used one of them as his private plane.
Moreover, Hughes also personally financed TWA's acquisition of 40 Constellations for $18 million. It was the largest aircraft-order in history up to that time. The nowadays iconic Constellation planes were among the highest-performing commercial aircraft of the late 1940s and 1950s. They allowed TWA to pioneer non-stop transcontinental service.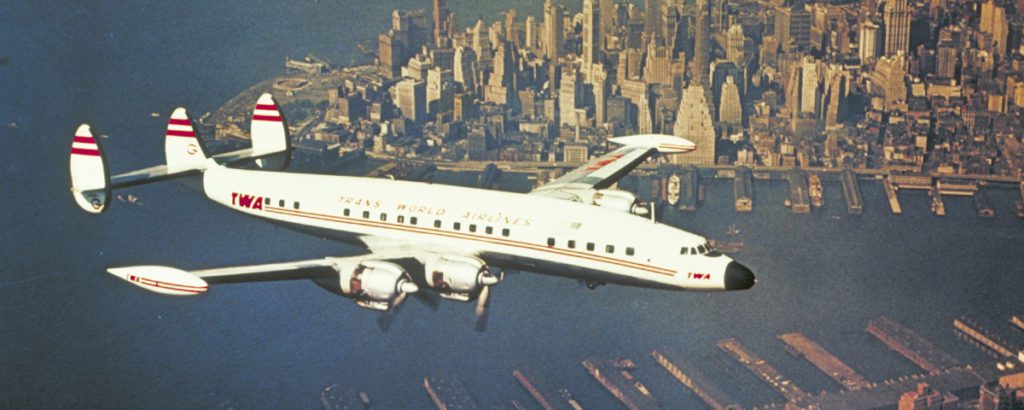 Longines Spirit
To pay tribute to the pioneer spirit of aviators and visionaries such as Howard Hughes, Longines has launched the Longines Spirit. It is designed in the style of the watches of famous pioneers who relied on Longines timepieces for their conquests. Bearing witness to Howard Hughes' pioneering spirit, the timepieces aim to inspire future generations to reaching new heights of achievement. All the models in the Longines Spirit collection are equipped with the latest technology. The result: high-precision movements, all of which are chronometer-certified.

Business Ventures
As a businessman, Hughes always showed a good hand and invested in industries that were just about to break through. Besides oil drilling equipment, film production and aviation, he also invested in real estate. He was particularly interested in Las Vegas. While staying in the Desert Inn, Hughes refused to vacate his room, when the owner asked him to leave because he didn't want to gamble in the hotel's casino. Instead of leaving, he decided to purchase the entire hotel.
He then went on to acquire more real estate in Las Vegas and even bought local media outlets. Overall, it is estimated that he spent $300 million on real estate in the Gambling Capital of the World and hence quickly became one of the most powerful men in Las Vegas. He used this influence to change the image of Las Vegas from its Wild West roots into a more refined cosmopolitan city. Hughes' vision for the city was more glamorous: "I like to think of Las Vegas in terms of a well-dressed man in a dinner jacket and a beautifully jeweled and furred female getting out of an expensive car."

Howard Hughes in Pop Culture
In 2004, the intriguing story of Howard Hughes was portrayed in the movie The Aviator. The epic biographical drama film stars Leonardo DiCaprio as Howard Hughes. Moreover, the producers of the 1971 James Bond movie Diamonds Are Forever based their villain on the character of Hughes. A tall, Texan, reclusive billionaire character named Willard Whyte operates his business empire from the penthouse of a Las Vegas hotel. His habitual seclusion and his control of a major aerospace contracting firm are key elements of the movie's plot. Several sequences were actually filmed on location at The Landmark Hotel and Casino, which was owned by Hughes at the time. A film we definitely recommend watching if you happen to be in quarantine right now!