Lausanne | The Beau-Rivage Palace
Housing the International Olympic Committee's headquarters, Lausanne is surprisingly well known for its rather small size. Not too long ago, the reputable magazine Monocle even designated Lausanne as 'Best small city in the world'. Does the city in the French speaking part of Switzerland really have all the assets to deserve the top spot in the ranking? We decided to go and find that out. For our stay, we chose the magnificent Beau-Rivage Palace as our home base. A decision that paid off!

Experiencing Beau-Rivage Palace
Situated on the banks of Lake Geneva, the Beau-Rivage Palace is nestled in the most beautiful spot of Lausanne. As we arrive here, we take in the Mediterranean atmosphere of the nearby harbor. We settle down in the hotel's four hectare large garden. On the splendid terrace, we enjoy a glass of rosé champagne and enjoy the oasis offering views onto Lake Geneva and the Alps.
Since its opening in 1861, the Beau-Rivage Palace has been one of Switzerland's most prestigious grand hotels. As such, it is still an ambassador of the highest Swiss hotel tradition is a great example of the country's typically excellent hospitality. It was here, that defining moments in history took place: the signing of pioneering treaties, famous artists finding inspiration, royal families and famous celebrity guests recharging their batteries.
Carefully renovated rooms
Classed as one of the best hotels in Europe, it is made up of two, nowadays connected, buildings. Between 2012 and 2014, all rooms were renovated. Many pastel colors were chosen and mirror effects introduced. Now, the calming atmosphere of the lake can be felt inside the iconic 5-star hotel too. This is especially true for the Junior suite we stay in. From its balcony and large lounge, the splendid view of Lake Geneva and Château d'Ouchy can be taken in. The perfect place for us, to enjoy an espresso!
Since we really adore the view from our room, we decide to have breakfast right in our lounge. We are quick to realize, that the Beau-Rivage Palace really knows how to spoil its guests. Carefully prepared fruit platters get served along with other mouth-watering breakfast dishes and freshly pressed juice. On the wrist this morning, the Longines Master Collection with both moon phase and calendar complications. An elegant watch for a classy stay!
Cinq Mondes Spa
Besides culinary delight, the Beau-Rivage Palace also offers attractive wellness facilities. The modern spa area opens onto the hotel's four-hectare park which provides pleasant natural light and offers views of Lake Geneva. For active guests, two outdoor tennis courts await. Moreover, a well-equipped gym with panorama windows makes the daily workout especially rewarding.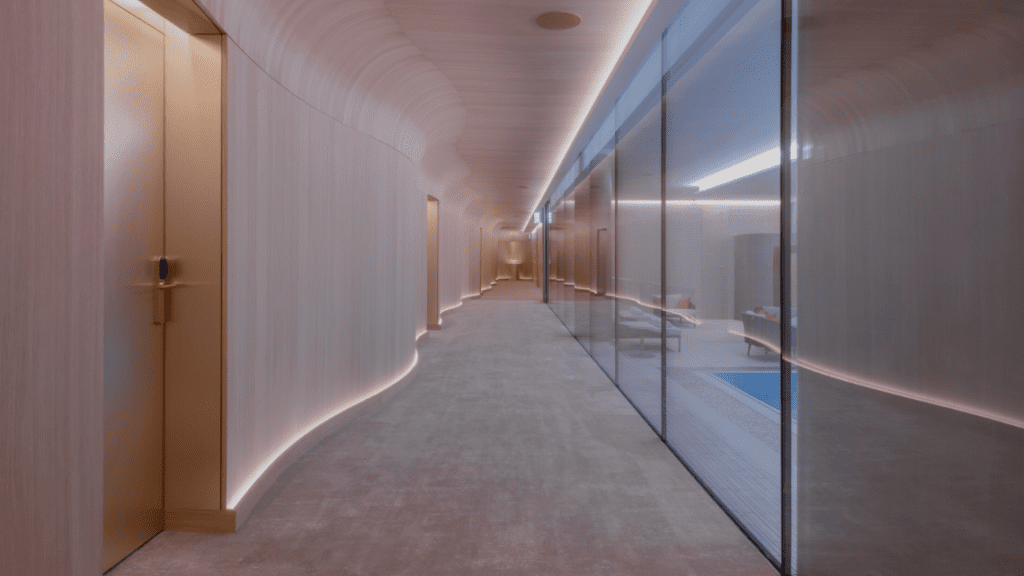 Coffee at Ça passe Crème
As we set out to explore the charming city of Lausanne with its many outstanding restaurants, historic buildings and the Olympic Museum, we notice a little coffee shop called Ça passe Crème. Here, they serve specialty coffee and know how to treat their customers with beautiful latte art! For us coffee-lovers, a city needs to have at least one world-class coffee shop to make it worth visiting. We're happy to announce that Lausanne ticks this box thanks to the guys at Ça passe Crème!
For our stroll through the city, we have strapped the Longines Heritage Classic Chronograph 1946 on the wrist. With its 40mm case, blued hands and chronograph complication, it embodies the quintessence of classicism in watchmaking. How do you like it?

Visiting Domaine du Daley
Just a couple minutes away from Lausanne, the beautiful region of Lavaux is home to some of the most scenic vineyards in the world. Here, we meet with Cyril Séverin, owner and manager of prestigious Domaine du Daley. The winery's impressive history dates back to 1392. For more than five centuries, it was owned by the Chapitre of Saint-Nicolas in Fribourg.
Recently, Domaine du Daley made substantial investments to create state of the art facilities. All with one goal: produce outstanding wines and respect the great terroir. Their strategy pays off, as they have won numerous awards. Moreover, the great wines of Domaine du Daley have made it on the menus of some of the finest restaurants in Switzerland, China and Japan. In fact, Cyril Séverin is one of only few winemakers in Switzerland who export a significant share of their wines. As we taste some of the marvelous wines on the new terrace, witnessing a stunning sunset, he tells us more about his wines. Cyril Séverin is particularly proud of his original vinification of Chasselas. It is the traditional grape of the region and widely known in Switzerland. His Chasselas offers an exquisite expression of terroir and minerality through some years of aging and surprises even the most discerning tasters. We were also impressed by his signature La Légende blend. A truly unique wine that we can recommend to everyone loving white wines!
Now, is Lausanne really the best small city in the world? Well, it is definitely up there! With its location on the shore of scenic Lake Geneva, old town, Olympic history and world-class hotels, it has something to offer for everyone. Is it really the best? That is up to you to decide, so make sure to visit this charming and lively city soon!
Are you not much of a French speaker? Then read this blogpost about the new city and lake resort 'The Living Circle' in Zurich.