Favre-Leuba | The world's second oldest watch brand
Did you know that one of the oldest watch brand's roots go back to 1718? In this blog we will tell exciting story of the Swiss watch brand Favre-Leuba and go hands-on with some of their novelties. Are you ready?

Taking time for Favre-Leuba
We follow an invitation of the brand's new CEO Philippe Roten to Zurich. Here, we dive into Favre-Leuba's brand universe. A carefully prepared space that awakes our adventurous spirit awaits us. Here, we soon discover that Favre-Leuba is all about conquering frontiers – both as a brand but also as a supplier of exceptional tool watches for people who dare to attempt the impossible.
Over a delicious dinner we get to know more about the latest Sky Chief Chronograph watches added to the collection of Favre-Leuba. But more about that later. We listen carefully to Philippe Roten's vision for the brand. They will continue to focus on the brand's strengths: heritage, savoir-faire, service excellence and global distribution. Talking about heritage, the brand's history goes back centuries and is truly interesting.

A unique history
In 1718, a gentleman called Abraham Favre began his watchmaker apprenticeship and was mentioned in an official document as an independent watchmaker in Le Locle as early as 1737. Later, he was even appointed Maître horloger du Locle, a high honor at that time. In 1815, the fourth generation of the watchmaker family joined forces with Auguste Leuba from Buttes in Val-de-Travers. Henry-August traveled around the world – from Germany to Russia, through Cuba to New York, from Brazil to Chile – to establish their own workshop's finely-made pocket watches in remote markets. Fritz Favre was the successor to his father and successfully pursued his expansion strategy in Europe, America, and Asia. In 1865, he traveled to India and launched his brand on the subcontinent, which was to quickly develop into an important market for Favre-Leuba.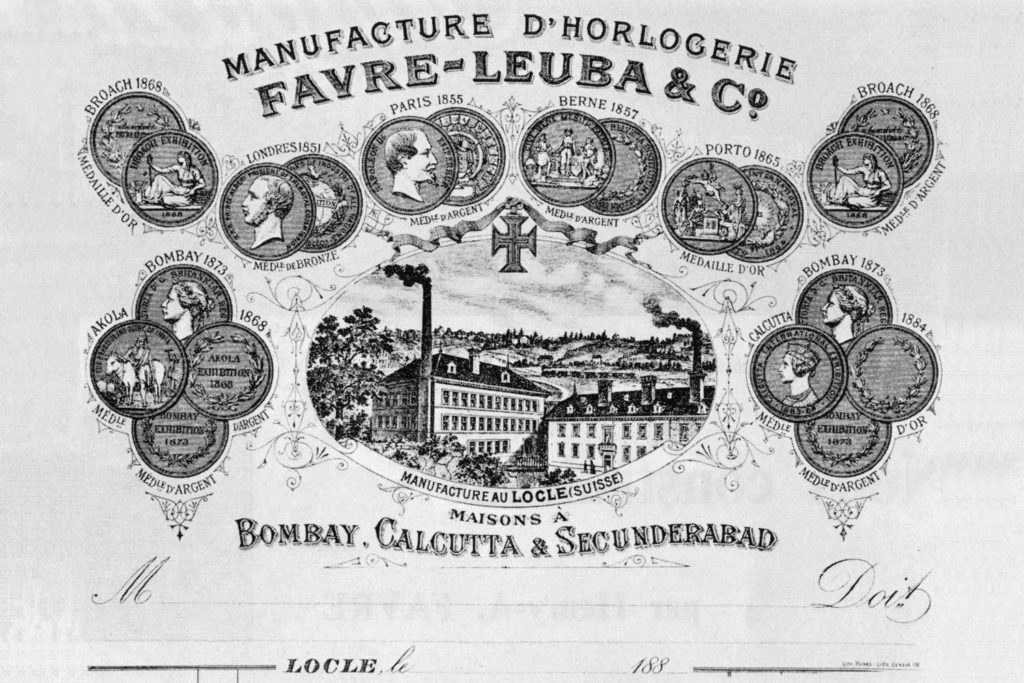 After the company headquarters were relocated from Le Locle to Geneva, Henri Favre-Leuba (1865–1961) assumed leadership of the family business and continued to steadily grow the brand. He remained president of the board of directors until his death. During his era, Favre-Leuba launched the first mono-pusher chronographs, just when wristwatches started to supersede pocket watches. After WWII, Favre-Leuba was able to count on a stable position in India thanks to their own office in Bombay. Step by step, the family company won back its position and relevance in other watch markets around the globe with branches in Hamburg, London, Rangoon, Karachi, Singapore, New York and others. They secured a well-functioning distribution with first-class customer service.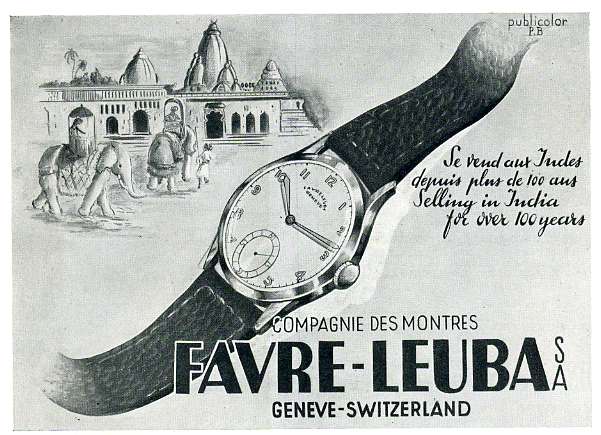 In the 1950s, Favre-Leuba introduced the manufacture caliber FL101, which was used in the Sea Chief, Sea King, and Sea Raider watch models. It was followed by the FL102 caliber with calendar used in its Datic models. The automatic movements FL103 and FL104 soon followed, both available without or with a calendar display.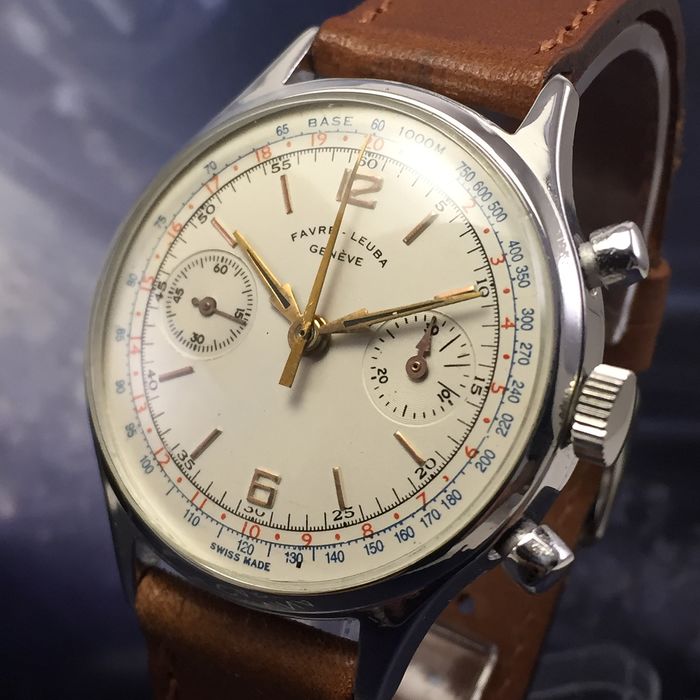 The biggest breakthrough came in 1960, when the very first divers watch, Water Deep, was introduced by the brand. It was the stepping stone for the success it garnered in this category. This achievement was followed by the Bivouac which was released two years later. It was the world's first mechanical wristwatch with aneroid barometer, for altimetry and air pressure measurement. It soon ranked among the indispensable equipment of those who overcame seemingly defined limits. Among others, it was the legendary Italian mountaineer Walter Bonatti who wore a Bivouac when he successfully conquered the north face of the Matterhorn on the most direct route.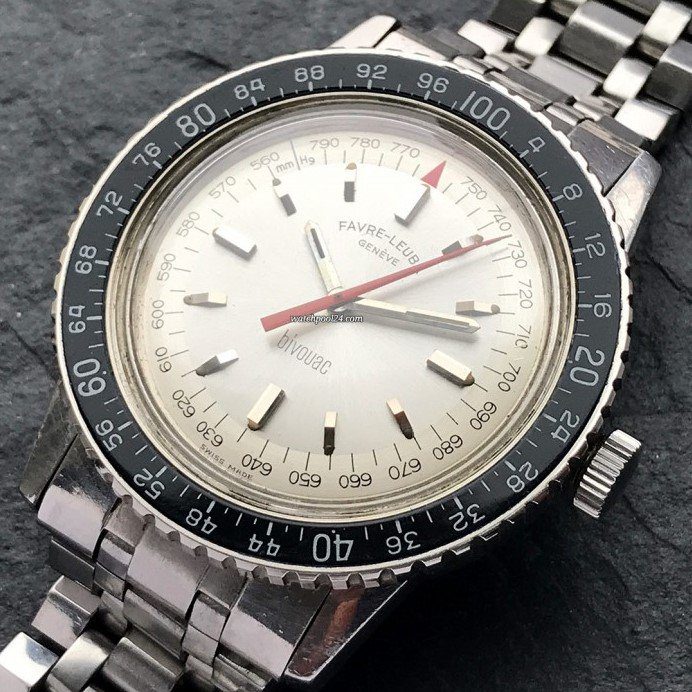 To honor Favre-Leuba's achievements of the 1960s, the Fédération Horlogère Suisse awarded first place to them in the Chronographs and Sport Watches category at the World's Fair in Montréal. This great decade for Favre-Leuba was rounded off by the introduction of the Bathy, the world's first mechanical wristwatch that not only displayed dive time, but also current diving depth.

Hands-on with the Favre-Leuba Sky Chief Chronograph
Today, Favre-Leuba follows a long-term strategy built on the historic strength and values of the brand The result is a collection of highly functional watches based on Favre-Leuba's technical and aesthetic achievements, brought up to date with proprietary technologies and a strong, confident design, as well as a contemporary, innovative market presence. The first watches released under the new CEO of the company, are the Sky Chief Chronographs.
The watches are powered by the iconic automatic ETA Valjoux 7753 movement. It features several complications such as hours, minutes, small seconds, chronograph with 30-minute counter and date display. Housed in a 43mm stainless steel case, it is protected by a curved sapphire crystal and equipped with a screw-in crown. In total, they issued six different dial variations and offer different vintage-style suede straps and a metal bracelet.
Our personal favorite is the version with a 'panda dial'. Its porcelain white dial is contrasted by black counters and sporty red cherry indexes. The dial is finished off with Favre-Leuba's signature appliquéd index marks. At around USD 2'800, this is a wonderful timepiece with a reliable movement, embodying the world's second oldest watch brand's heritage and signature style perfectly.
Did you enjoy this article? Then click here to discover more content by the Artworth team.