Kempinski St Moritz | At the Source of Well-being
2020 has been the year of domestic tourism so far. And we couldn't be happier about this. Since we live in Switzerland, we got to explore so many beautiful places in our picturesque home country. One of which we will introduce to you in this article. Do you want to know why we think that the Kempinski St Moritz is the ultimate source of well-being? Then read on!

Arriving at the Kempinski St Moritz
As we arrive in St Moritz, we do a quick stop at the Gelateria Palace in the middle of the picturesque mountain village. While enjoying the home-made ice cream, we do some window shopping on Via Serlas, one of the main shopping streets in the town.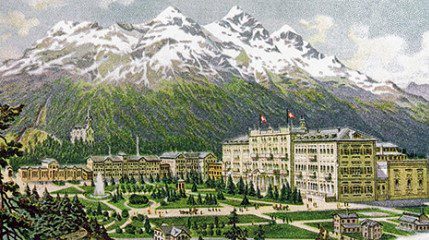 Next, we head to St Moritz Bad. Here, at the end of the Lake St Moritz, in a sheltered location directly at the source of the famed mineral springs, the Grand Hotel des Bains Kempinski St Moritz can be found. Steeped in tradition, the hotel can look back on an illustrious past. It was built in the 1860s as the Grand Hotel des Bains. The destination originally became famous for its mineral spring, discovered some 3'000 years ago. The Grand Hotel was built right on top of the Mauritius water source, which has helped people recovering and relaxing for centuries.
Set in its iconic original building, the Grand Hotel des Bains Kempinski is offering timeless European luxury in a breathtaking mountain setting. In 2001, the hotel was completely redesigned, renewed and opened first under Kempinski in 2002. This five-star superior hotel is located at the foot of the cable car with unrivaled access to the countless hiking trails of the Engadin Valley. To celebrate our arrival, we enjoy a glass of champagne while taking in the breathtaking views on the Grand Hotel.

A treat for all senses
When it comes to enjoying culinary delights, the Kempinski St Moritz has something to offer for every taste. While the Lobby Bar serves contemporary delicacies such as club sandwiches or a classic style high tea, the hotel also hosts three outstanding restaurants including the Michelin star awarded Cà d'Oro. It is here where we spend a splendid evening indulging in a variety of creations with finest local and foreign ingredients. All carefully and thoughtfully prepared.
After dinner it is time to relax in a gentleman's manner. We head over to The Smokers Lounge & Library where we light a cigar, order a fine cognac and just sit back to relax. The bar offers a nice selection of whiskies, wines and of course cigars. It is the ideal place to unwind, make plans for the next day and let a perfect evening come to an end.
The next day, we get started by visiting the vast spa area. Here, we immerse ourselves in the Alpine-style environment and experience the feel of the natural elements with all our senses. On 2'800 sqm the Kempinski The Spa has four different saunas, a steam bath, a laconium, an indoor pool, a gym and a sun terrace. For us, the highlight is a large sauna decorated with upcycled local wood. It reminds one of an ancient mountain hut. This makes it extremely charming and authentic.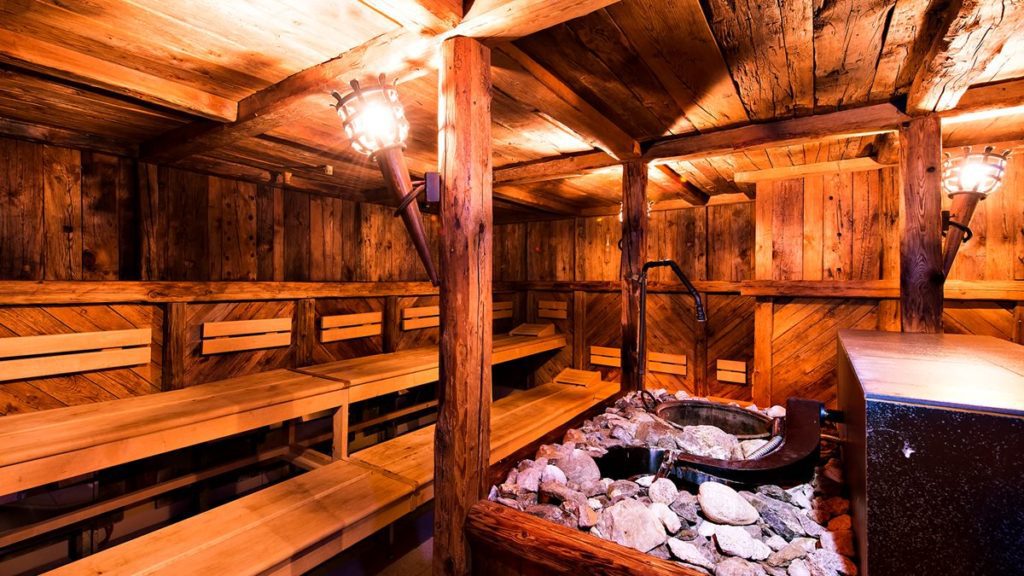 Another must-see is the iconic indoor pool of the Kempinski St. Moritz. Here, guests can swim in the purifying water of the famous Mauritius spring. Back in the year 1535, the doctor and scientist Paracelsus has re-discovered the manifold qualities of this natural water, that contains above-average concentrations of minerals. Don't miss out on the opportunity of treating your body with the healing qualities of this spring water.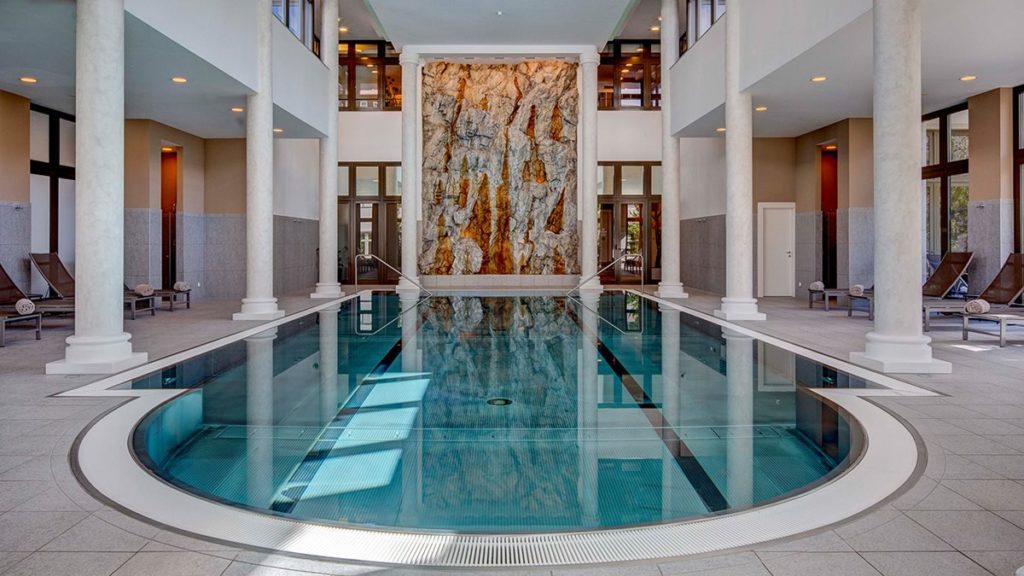 A historically significant collaboration
In collaboration with Veuve Clicquot, guests can unwind and take in stunning Alpine views from the Kempinski Park Café in front of the Grand Hotel this summer. While the champagne brand itself might be well-known, its exciting and rich history is most probably not. Just like the Grand Hotel des Bains Kempinski St Moritz, Veuve Clicquot's roots go back centuries. In fact, it was Philippe Clicquot who founded the company in 1772. Thirty years later, Philippe Clicquot retired and left control to his son François who suddenly fell ill a few years later and died at age thirty. Devastated by his death, the young widow (veuve in French) Barbe-Nicole decided to take over her husband's business to continue his legacy. Hence, she became one of the first business women in the early 1800s to run an international business in a world dominated by men.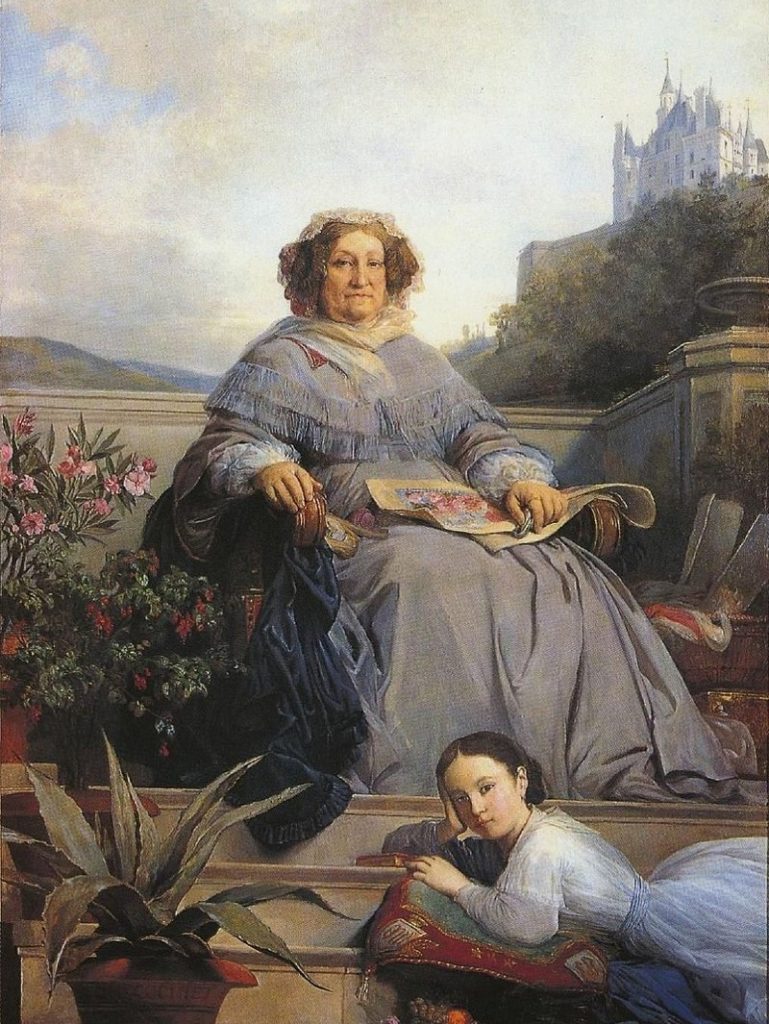 Madame Clicquot is credited with major breakthroughs. She created the first known vintage champagne in 1810 and invented the riddling table process to clarify champagne. Moreover, she created the first known rosé champagne by blending still red and white champagne wines, a process still used today. During the Napoleonic Wars, Madame Clicquot managed to establish her wine in royal courts throughout Europe, notably that of Imperial Russia. Thanks to her, champagne was established as a favored drink of high society and nobility.
Today, the brand is best known for its distinctive yellow label. This colorful branding gives the wonderful summer lounge in front of the Kempinski in St Moritz a friendly and welcoming touch. We love to sit down outside and share a bottle of Veuve Clicquot Yellow Label on this sunny afternoon to celebrate life.

Unwinding in the Engadin valley region
Since the hotel itself has so much to offer, guests easily forget that they are surrounded by beautiful nature that awaits to be explored. No matter if you want to go biking, hiking take out a boat for a trip or fishing, you will get lucky! The region is also great for golfing, climbing and Alpinism.
We decide to take our Jaguar F-Pace SVR on a scenic drive along the picturesque mountain lakes and through the lush green forests. You can imagine that the pops and crackles coming from the roaring V8 engine while driving on the winding mountain roads put big smiles on our faces.
Soon we realize that one thing one should definitely bring on a trip to St Moritz are leather driving gloves. How do you like our AW Driving Gloves in blue? They are made by artisans in Spain, guarantee a safe grip and great comfort.
While on the road, we keep on discovering new beautiful places. One can't resist and has to get out of the car to get a good long look of the beautiful landscapes surrounding us.
Way too quickly, our staycation comes to an end. It has once again been an extraordinary couple of days up in St Moritz. We feel lucky and blessed to be living in a country with such stunning landscapes and extraordinary hotels like the Kempinski St Moritz. There is no other country we would rather be this year!
Did you know that there are a number of unique events taking place in St Moritz in winter? For example the legendary horse race White Turf or the exciting Snow Polo. Both take place on the frozen Lake St Moritz and captivate large crowds. We can highly recommend attending those two events!