Quarantine Reads | World's most exclusive Homes
We have compiled a list of the world's most exclusive homes that will make you dream. Imagine waking up and being able to just walk a couple of meters and dip your toe into a hot Jacuzzi with views of the New York Skyline. We are sure that people living in these homes are currently the ones saying "Come on guys, if we can stay inside, you can too". Cooped up at home does not mean watching Netflix all day. There, you can do a whole lot more. Let us dive right into it and let us know what home you would prefer having!

1 | The ONE, Bel Air, California – $500,000,000
Finally, The ONE on a Bel Air hilltop is finally near completion. 7 years have gone into this project, created by former movie director Nile Niami and architect Paul McClean. This 9000-square-meter, 20 bedroom mansion is the most impressive home we've ever seen and is naturally Artworth's top choice.
Just listen to the multitude of these jaw-dropping features; a 5,500-square-feet master suite, 30 bathrooms, a 30-car 'gallery', five swimming pools, a 36-seat movie theater, six-lane bowling alley and a proper nightclub. Is there anything missing for a fun quarantine with your friends and family?

2 | Updown Court, UK – $150,000,000
This California-inspired villa is situated in the village of Windlesham in Surrey, England. The mansion consists of 103 rooms, 22 bedrooms, 5 Olympic-size pools, 50-seat cinema, garage with space for 8 limousines and a landing site for helicopters.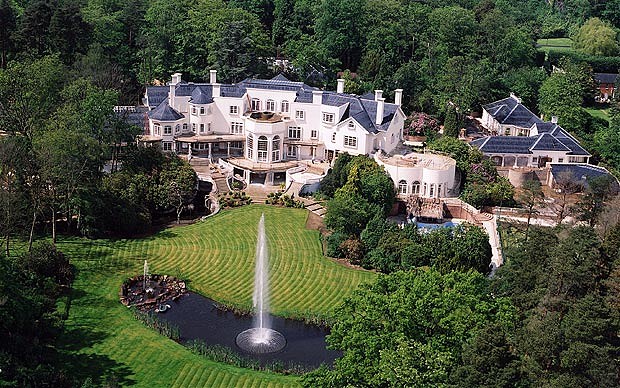 You also have access to various golf courses, tennis, squash, bowling and stables in case you are a passionate horse rider. Updown Court is made up of an estate with a whooping 230,000-square-meter. Here, you definitely won't annoy your neighbors when throwing a party. Would you want to be in possession if this ridiculous amount of land? Let us know in the comment section down below.

3 | Sarbonne, Bel Air, California – $88,000,000
2000-square-meter of luxury. At Artworth we believes that this is one of the most impressive homes on this list in terms of architecture. The house has a open layout and gives you a perfect blend of combing outdoor- and indoor living. That is ideal for living the Californian lifestyle. 9 bedrooms, 15 bathrooms, car elevator, bar, magnificent views, a professional kitchen for your private chef, 3'000-bottle wine cellar with cigar humidor, gym, spa and of course a home theater can be found in this impressive home.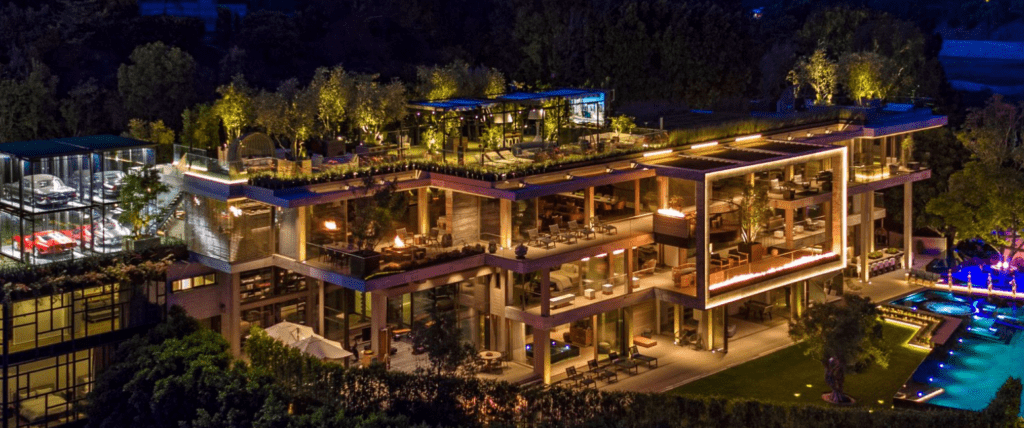 Also, Sarbonne takes security seriously and has face recognition and a ballistic door in to the master bedroom. Are these security features you are keen to have at home?

4 | Le Penthouse, Manhattan – $98,000,000
Let's head over to New York. Here, the apartment "Le Penthouse" is situated in the heart of Manhattan, just a few steps from the Empire State Building. It is the most expensive home on the market in NYC (as of October 2019). Why? It offers 1'800-square-meters, 11 bedrooms, 14 bathrooms, a total of 5 floors and a Jacuzzi as well as pool on the private roof deck.
While it might seem ridiculous to pay almost 100 million for an apartment, this one is definitely making a strong case due to its magnificent views and multi-floor layout. Imagine taking a bath at sky-level with a view of the Chrysler and Empire State Building. Wow! How would we describe this apartment? Magnifique!

5 | Villa l'Echaguette, Monaco – $125,000,000
Although that's hard for us Swiss people to admit: Monaco is the capital of wealth in Europe. Here, the villa l'Echaguette was built in the 1860s already and was the home of casino developer Francois Blanc. He helped transform Monaco into the playground for the rich and famous that it is today. So why not live in the house he once owned?
From its rooftop terrace you can gaze down at F1 race cars, blasting through the streets at the annual Monaco Grand Prix. The villa has 6 bedrooms and a spacious living room that connects to a large, private terrace. Furthermore it offers a wine cellar, a 22-meter-long pool, sauna, guest apartment and a garage. At Artworth we would definitely enjoy a glass of Dom Pérignon on the terrace while getting a tan. What about you?
If you want to read the blogpost about the most exclusive chalet we stayed in so far in the Swiss Alps, then click here.