Quarantine Reads | James Bond and his Watches
James Bond is arguably one of the greatest characters to ever appear on a theater screen. He is an icon for generations of gentleman lifestyle enthusiasts. His exclusive watches, nice cars, tailor-made suits, expensive champagnes and beautiful women never fail to impress. At Artworth we have been fascinated by the MI6 agent from early on. In an attempt to entertain you guys during the current quarantine time, we encourage you to watch the original Bond movies. To get you into the mood, we have put together an overview of the most iconic watches that have appeared in Bond movies from Dr. No in 1962 to No Time to Die (2020) – Enjoy!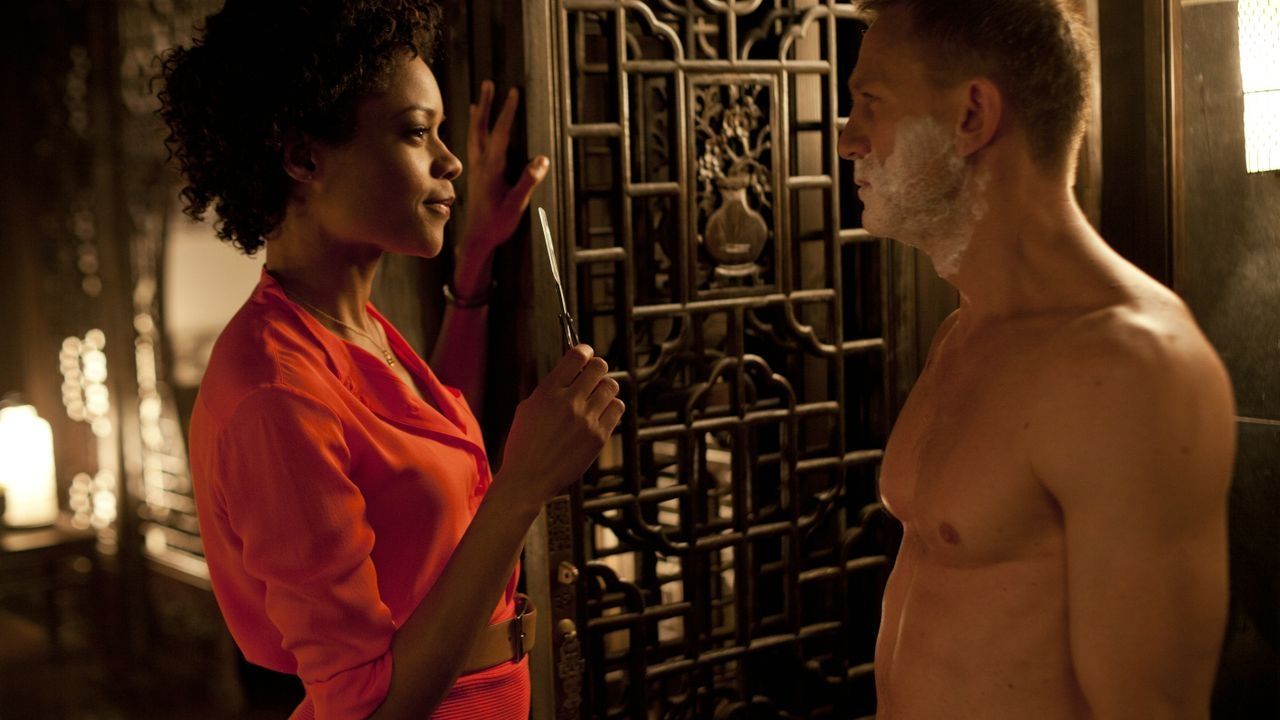 007 likes to do things the old-fashioned way
In one scene in Skyfall (2012), the stunning Bond girl Eve is watching Bond shave with a straight razor. She mentions that his choice of razor is very traditional, to which Bond replies: "Well, I like to do some things the old-fashioned way."
"Well, I like to do some things the old-fashioned way."

James Bond, Skyfall (2012)
This quote gives us an idea about the inspiring character of James Bond. On one hand he is an extravagant luxury idealist, but on the other he is classic and quite the minimalist. There is no doubt that he is very brand conscious and he is definitely not saving any money on suits, since he gets them all from Savile Row. The same goes for his watches and champagne!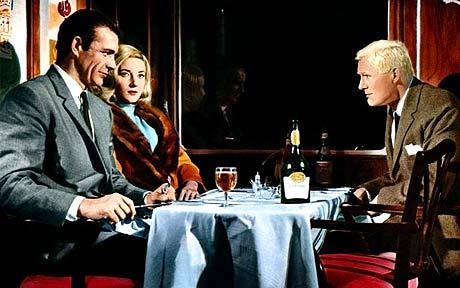 But on the contrary, his apartments are poorly furnished and in the early movies he drives a beat up Bentley collected at the scrapyard. As the quote says, Bond likes to do some things the old-fashioned way. This might be the reason why even the latest movies are relatively similar to the first ones. The style, imagery, details, women, cars and cheeky one-liners are still all the same as back in the early 1960s when the iconic MI6 agent appeared for the first time in theaters. Another reason to cheer for this conflicting characteristic of Bond is, that you probably won't see him wearing an Apple watch anytime soon!
The Rolex era (1960s)
James Bond premiered in 1962 with the release of Dr. No. In this movie, 007 is wearing the Rolex Submariner with an elegant brown leather strap, reference 6358. It is said that this might have been Sean Connery's private watch, but it has never been confirmed.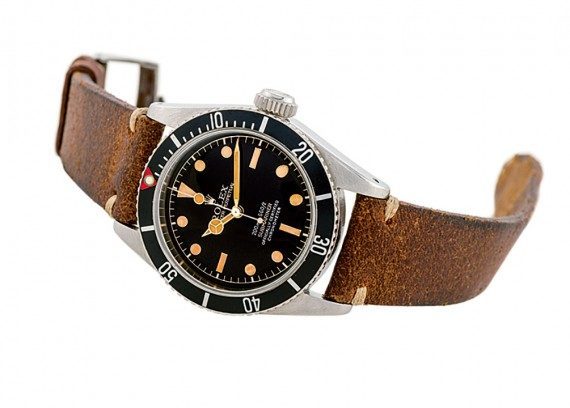 He wore that same watch again in Goldfinger (1964) only this time 007 wore it on a NATO strap – a detail that caught the attention of countless watch enthusiasts! A trend came back in recent year and one that we embrace as well at Artworth.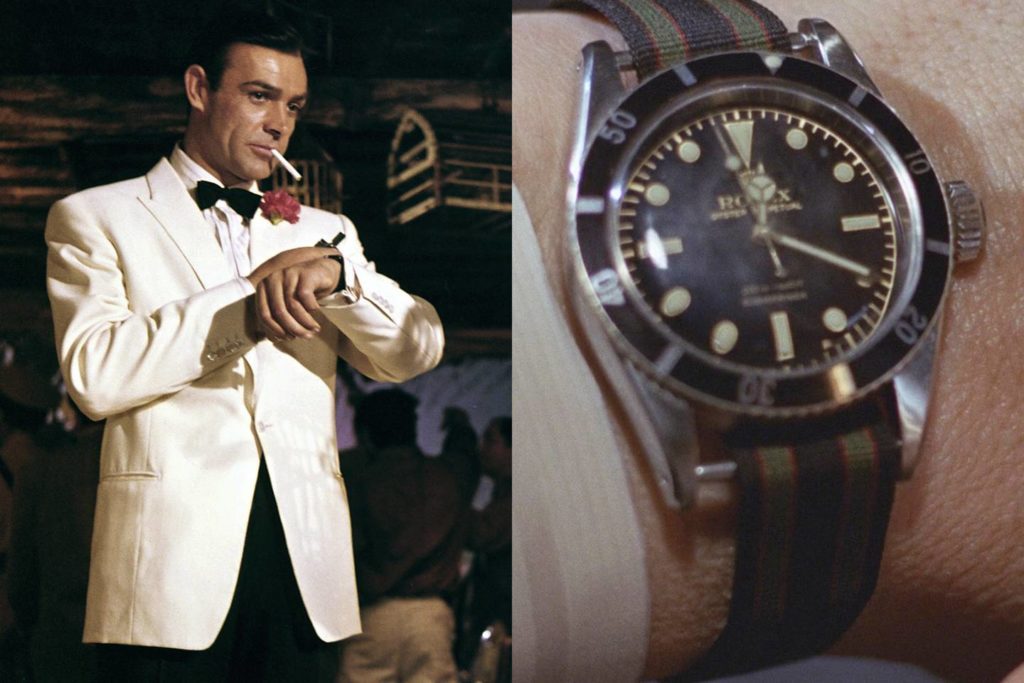 Rolex was James Bond's and creator Ian Fleming's' preferred watch for a long time. However, during the 4th movie Thunderball (1965) we got introduced to another brand that accompanies Rolex in the movie. While he is still wearing the Rolex Submariner to tell the time, he relies on a modified Breitling Top Time when he is in need of a Geiger counter. The Breitling is one of our personal favorites throughout the Bond era. It differentiates from a lot of the bigger diving watches we often see on agent 007's wrist due to it's sleek and classy details and minimalist look.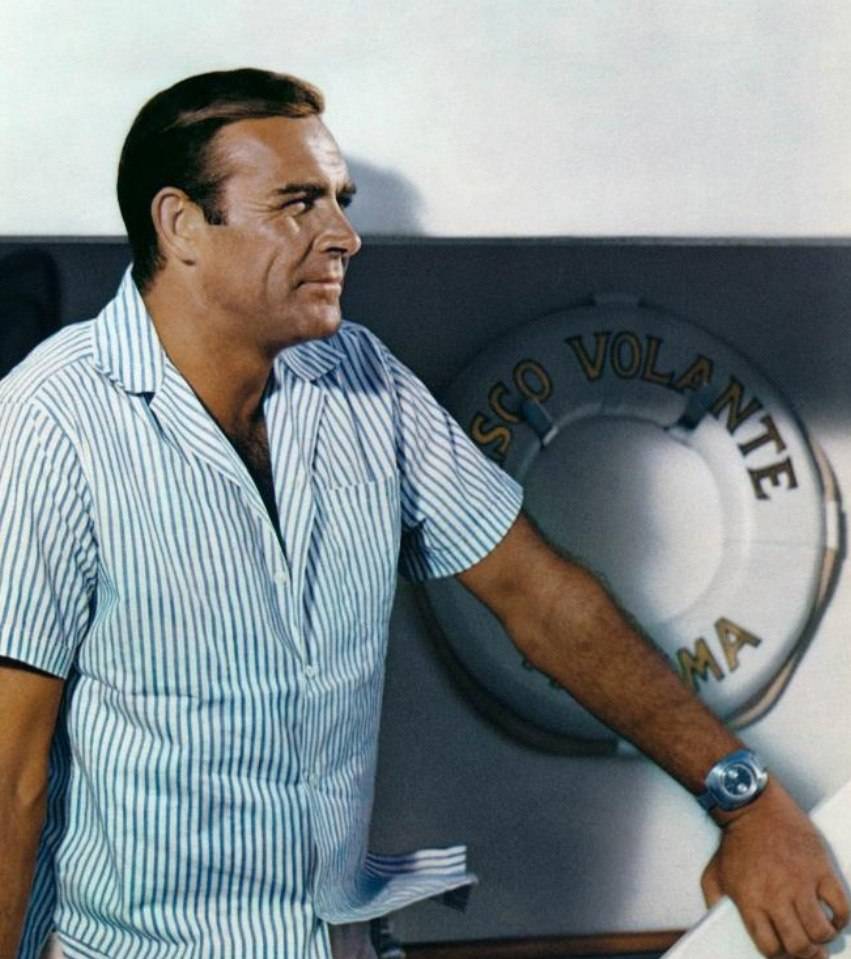 Later that decade, James bond wears a very stylish Rolex Chronograph that was manufactured before the Daytona era. A very special piece that is definitely worth mentioning here. Also, the movie was set mostly in the Swiss Alps. Another reason for us to love the only movie starring George Lazenby.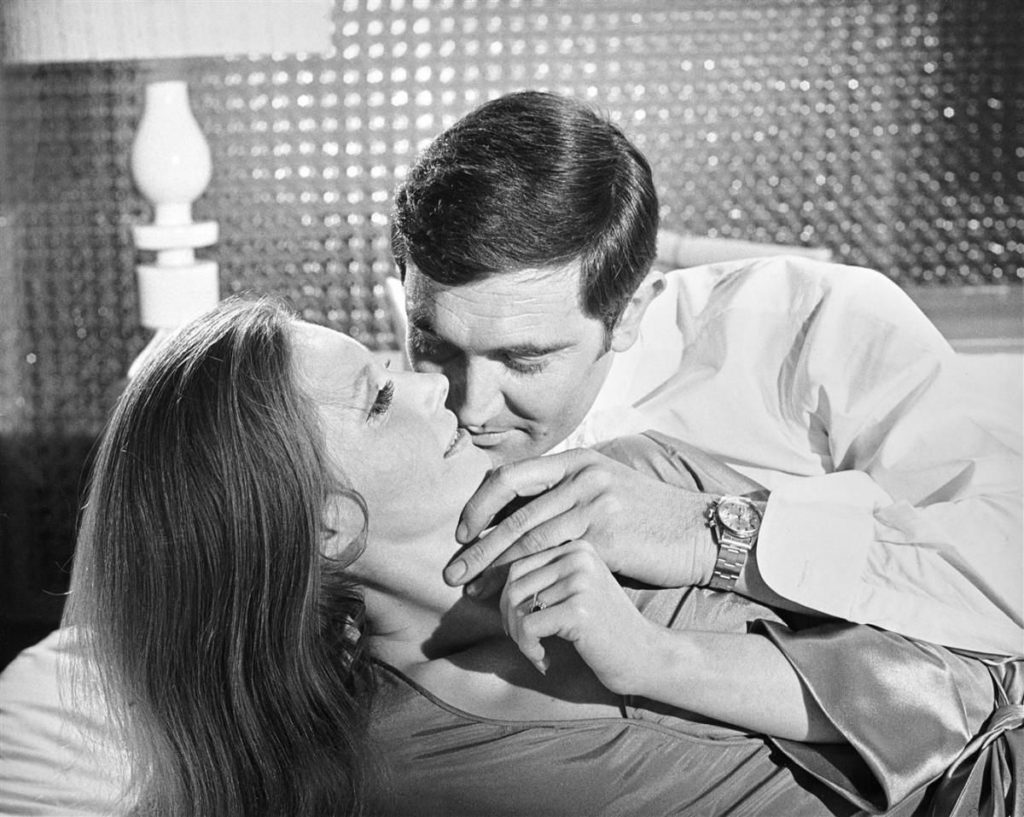 Entering the quartz crisis
In The Spy Who Loved Me (1977) a Rolex GMT Master assures reliable timekeeping and classy appearance throughout the movie while the digital Seiko 0674 LC functions as a label-making printer ejecting important messages sent from the office spymaster M. This becomes a turning point in the watch-aspect of the Bond movies as the MI6 agent is wearing Seiko in all of his movies from The Spy Who Loved Me (1977) to A View to a Kill (1985). It is interesting to see how the 007 series embraces the technological breakthrough in timekeeping. The new quartz timepieces are ideal gadgets for a spy like James Bond. However, they lack the class and aesthetics to have appealed to Bond how we know him from the early movies.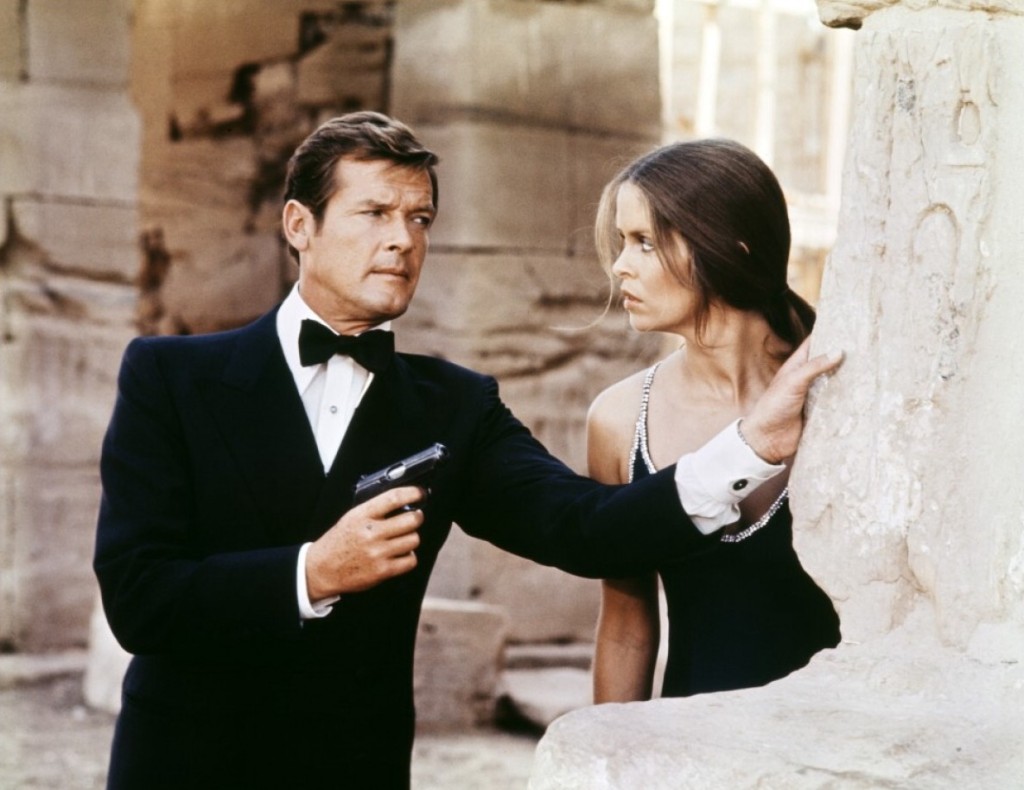 Swiss watches are back!
In 1995, something happened that made a lasting impact in the watch community: the first Omega was introduced in a James Bond movie! The quartz version of the Omega Seamaster Professional 300M Ref. 2541.80 convinced watch enthusiasts on the wrist of Pierce Brosnan in the movie GoldenEye (1995). Since then, Omega watches have been spotted on Bond's wrist in every single movie. Among them were the Omega Seamaster Professional, Seamaster Diver 300m, Seamaster Planet Ocean and Seamaster 300 Spectre. The directors did also not shy away from directly referencing to the watch on 007's wrist:
Vesper Lynd: Rolex?

James Bond: Omega.

Vesper Lynd: Beautiful.


Casino Royale (2006)
Those lines are from the debut of Daniel Craig as James Bond and are remembered as one of the best scenes for watch enthusiasts with the well-known "snappiness" and one-liner skills of special agent 007.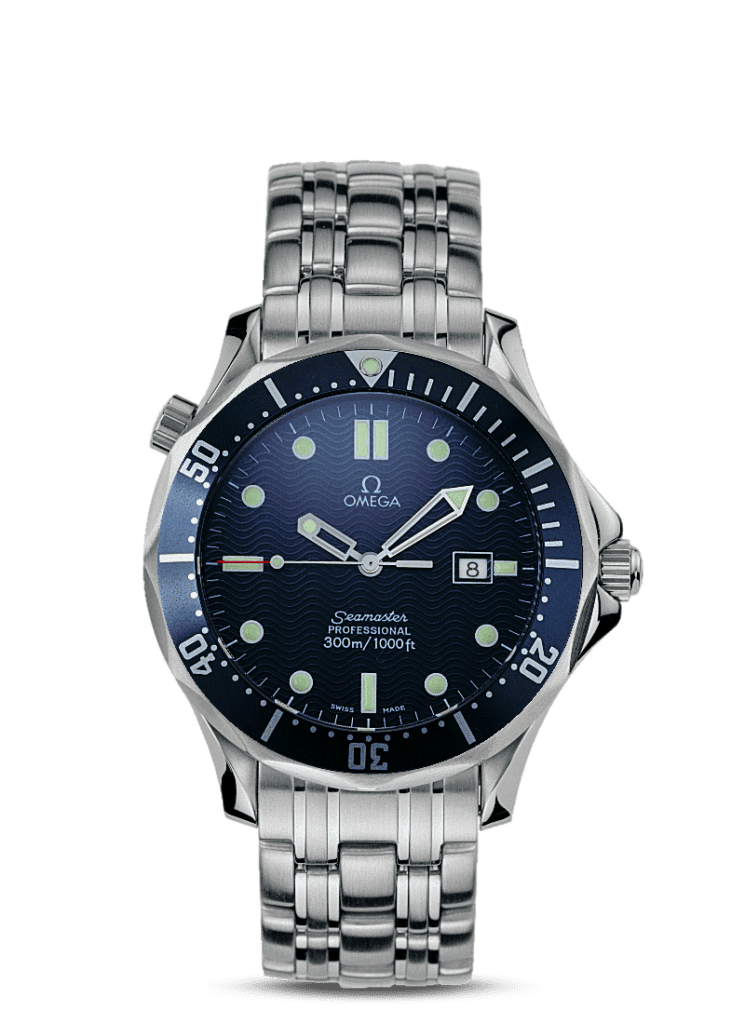 In this year's movie No Time To Die (2020), that was supposed to premiere April, Daniel Craig straps on an Omega as well. The beautiful Seamaster Diver 300M 007 Edition will ensure that the English actor's wrist looks amazing while fighting villains and picking up beautiful women. We love how this model is paying tribute to the early days of James Bond!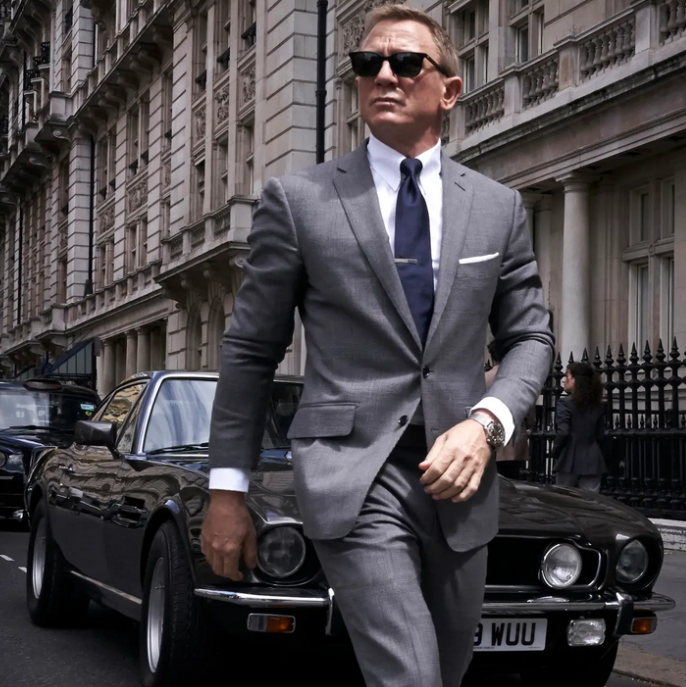 At Artworth we love Omega watches. Especially the ones from the 60s! We are actually a bit sad that 007 never wore a classy dress watch by Omega in the Sean Connory era. Imagine the iconic Omega Seamaster Cosmic on the wrist of the MI6 agent! We personally love to wear these vintage models. Especially on vintage-style suede straps. Add a well-tailored suit and you will feel like traveling back in time!
Our love for Omega watches had led us to collect vintage pieces from the 60s. Now, we also offer some on our shop. Have a look here!
If you want to read about James Bond's birthplace in the Scottish Highlands, then click here to get to the blog.